2015-03-08 ::: 22:21:30
@TBC
In this recent update of your game, every time i start over by using key F12:
I can return to the map of my last continue but when i move from my my last spot i saved, I end up with this Error message.
--TJ9304
" />
Last edited by tj9304 on Tue Mar 10, 2015 4:44 pm; edited 1 time in total
2015-03-09 :: 09:13:59
" />
" />
I have found this Error or bug when i was at Viridian city's Pokemon Academy and One of the characters i have found was an error, The character that Agatha is facing(Top image) is the Error when i wanted to interact with him, and the Error message came into effect(Bottom Image).
2015-03-09 :: 09:20:41
" />
In this image above, I wanted to enter into the building that is next to Oak, and for some reason the game put Agatha still and i could not move forward or backward to continue(Loc: Route2)
" />
In this image above Agatha's event with the Robber at  (Viridian City - Night) event, After i defeated the Robber and continued the story, Agatha had finished her speech with the Robber and for some reason the Old woman behind her store just Hold still and never came down to talk to Agatha to finish this event.
That is all the Bugs or errors i have found so far and i will make a new reply later. Thank  you for your time Gen 0!
Error 1: This was probably because you updated and delete your old save. As advised on the download page, you need to do so.
Error 2: Thanks! I'll look into that.
Error 3: I did not notice that o.o It was actually a super simple fix. I was just doing some different random stuff and then something small got switched over to a dud event so it was trying to affect an event that didn't exist lol. So I switched them over and it's working fine now

Error 4: Weird. I'm not sure why that is happening. I've tested that event myself o.o I'll definitely look into it!
Thank you very much for the bug reports! And you're welcome

_________________
:
Currently Playing
:
ESO!!! Xbox One
*
Gamertag: Okiushi
*Guild: Fellowship of Shenanigans
Titanfall 2
Fallout 4
Shadows of Adam
Admin




Posts

: 802


Join date

: 2013-05-10


Age

: 27


Location

: Wisconsin

Trainer Card
Trainer Name:: Kain
Region: Kanto
Friend Code:


ok thanks
@TBC
but about Error 1: 
I did not Delete any save file.
 i simply made did my playthru and saved for the first time of this update .6.10 demo,
 and I am not sure which is the Save file  may i ask which is the Save File for this game, and is it in the "Data" subfolder ?
and just in case the first error picture was too small i was able to redo the screen capture of the error message.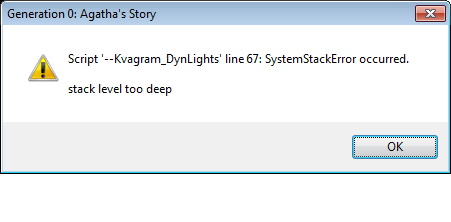 " />
Ahh.. yes, I can discourage any F12 resets of the game. There is some kind of glitch in how that is handled.
It is a thing I am attempting to fix, once I get the time for it.



Posts

: 97


Join date

: 2014-07-28


Age

: 25


Location

: Ålesund, Norway



ok cool thanks
@KvaGram
!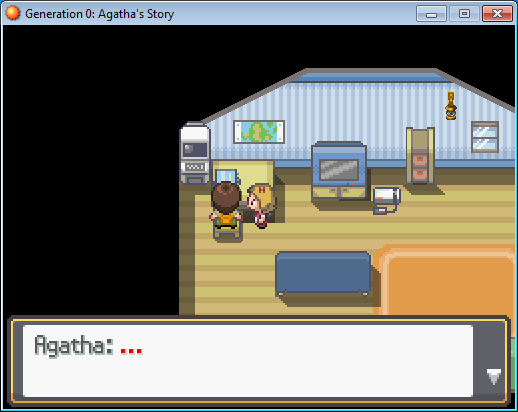 " />
and this one...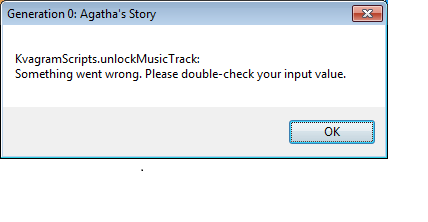 " />
I was able to find this earlier, When player enter the room with Samuel Oak, this error pops up and so far so good the game does not crash after clicking ok, and moves on with the scene with Agatha talking to Samuel.
Thank you for your time
@KvaGram
, and Gen0 you guys are awesome!!
Can confirm Team Rocket event bug. Tried it twice and it happened both times.
Another thing, when I talk to that old lady, the talking sprites of her and Agatha stay onscreen until I get into a battle or something.
Confirming bugs 2 and 3 as well. That's it I think, this is pretty bug-free for an Alpha.
Last edited by TBC on Wed Apr 01, 2015 4:03 pm; edited 1 time in total (Reason for editing : There is an edit button for a reason, please use it. ~TBC)



Posts

: 1


Join date

: 2015-03-15



" />
During the Gym Leader battle for the Conquest badge, I was able to take on the Leader's Pokemon Pinkie the Jigglypuff, Kangaskan and Birdo the Farfetch'd and man it was a hell of a battle against Kangaskan,
 but after i defeated this pokemon, Leader sends out her last pokemon Birdo, and my last standing Pokemon Meowth, It was easy, but what made it Awkwardly easy,
Because that Birdo NEVER attacked my pokemon and i was able to use meowth's BITE attack 
and was wierd was that the Text for Birdo's move speech was skipped and i could not tell if Birdo was going to attack or if Birdo was flinched, and the battle turns were fast and i won the Gym leader battle.
" />
in this image above i was able to defeat Samuel Oak and after the battle the character nidoran male left with Oak, and i went out of Rte 2 and recovered to Pokecenter and returned back to the building but i noticed that Nidoran came back to its place as if Oak was standing there.
The pokemonbattle-scripts have a few bugs, especially the AI.
It is something we hope to see patched by the pokemon essentials team, or somehow be able to fix ourself one day.



Posts

: 97


Join date

: 2014-07-28


Age

: 25


Location

: Ålesund, Norway



Thank you for the reports, guys!!!!  This helps a lot. I will be making sure to do my best to fix all of these bugs as soon as possible.

Off the top of my head, the bug with Birdo should be fixed by now. I found the issue was with certain attacks. They made it so the pokemon wouldn't act at all. I believe I have it working now, but I will be testing it to be sure.

For the TR quest bug, I'm not sure at the moment how to get it to work right. It doesn't do the stuck on the black screen thing for me, I don't get it >.<  

Maybe I'll just flat out re-do the event and see if that works.

Thanks again, guys! This definitely helps.
Admin




Posts

: 802


Join date

: 2013-05-10


Age

: 27


Location

: Wisconsin

Trainer Card
Trainer Name:: Kain
Region: Kanto
Friend Code:


---
Permissions in this forum:
You
cannot
reply to topics in this forum